I like to shop. I like pretty things. I like to shop for pretty things. I wear the things and decorate my home with them and give the pretty things away as gifts. And I'm not alone. According to Experian, the typical U.S. household today "shells out $12,800 annually on discretionary expenditures." We spend more money annually on things we don't even need than the majority of people earn in a year. Statista research shows "69 percent of the world's population have a net worth of under $10,000 – they account for a mere 3 percent of global wealth. Meanwhile, 23 percent fall into the $10,000-$100,000 bracket and they control 14 percent of worldwide wealth." What that means is that "in order to be counted among the wealthiest half of the world's citizens, a person requires a net worth of $3,650." You only need to earn $10 a day to be considered rich. And more than a billion people actually live on less than $1 a day.
Hear my heart, I do not think money is bad. I do not think spending is bad. Remember the pretty things? But I believe there is a responsibility we have to be good stewards of our resources.
We are one global economy and with our spending power, North Americans can make a vast and lasting impact around the world. It's about the power of partial solutions. A line I stole from the documentary "
Living on One Dollar
", which I highly encourage
everyone
to watch. It's only an hour and it will do dramatic things to your perspective. It shows you that small incremental changes can have a profound effect.
So let me ask. Where do you buy your pretty things? Target is an acceptable response. 🙂 But what about making a small change with some of your spending power and adding these, as well? These goods are fair trade, handmade; they're empowering women and bringing entire families out of poverty.
3 Cords
: 3 Cords is a social enterprise founded in September 2010 to train, employ, and empower Haitian men and women.  The mission is to provide opportunities for physically handicapped  women and men, and to show them that they are both beautiful and valuable.  Products include hair cords, purses and bags and accessories.
Funky Fish Designs
: Paper bead jewelry made in Uganda by the Women of Destiny. Funky Fish supports orphans, those that are HIV positive and uses profits to support adoptive families, as well. It's not just jewelry, it's a ministry.
Haiti's Jewels
: Another social enterprise in Haiti, they partner with Haitian artist to design, produce and sell beautiful jewelry using materials like recycled aluminum, hand-cut goat leather, natural Haitian sees, stones, coconut husk and recycled glass. As Haitians develop professional artisan skills the buy land, provide food and shelter and an education for their children, pay medical bills, start their own businesses, make positive change in their communities and support their local economy.
Karama
: Karama believes in dignity for everyone and believes that much of that dignity comes through creative, purposeful work. So its mission is to provide a market for high quality handcrafted African products and to build relationships with African artisans and businesses. They partner with small local African businesses and assist them in financing, designing and marketing their products in the US, things such as apparel, handbags, jewelry, home accessories and more.
Noonday Collection
: Noonday Collection's mission is to create economic opportunity for the vulnerable. It partners with artisans in the developing world, empowering them to grow sustainable businesses and creating  dignified jobs at living wages. Noonday also donates a portion of sales from adoption trunk shows to place orphans in forever families. Check out their jewelry and accessories.
Raven + Lily
: Raven + Lily currently helps employ marginalized women in India, Ethiopia, Kenya, Cambodia, Pakistan, Guatemala, and the USA at fair trade wages to give them access to a safe job, sustainable income, health care, education, and a real chance to to break the cycle of poverty for themselves and their families. Products include jewelry, gifts, accessories and apparel.
Slum Love Sweater Company
: These sweaters are made in Nairobi, Kenya, by people living in one of the world's largest slums called Kibera. The employees are treated with respect, paid fair wages and given the resources and opportunities they need to provide for themselves and their families.
The Root Collective
: The Root Collective partners with small-scale artisan businesses in marginalized communities to promote change through dignified jobs. The artisans, most living in slum communities in Guatemala, own their own businesses and set their own pricing. You'll find jewelry, accessories and shoes.
Toms
: Speaking of shoes, Toms' One for One program started with footwear and has now expanded to eyewear, apparel and accessories. This is one of the companies that started the trend and has now given away more than 35 millions pairs of shoes to those in need.
ViBella
: ViBella is a jewelry company committed to much more than just jewelry. More importantly, they're committed to providing employment, education, and opportunity to artisans in Haiti, Mexico, and right here in the United States.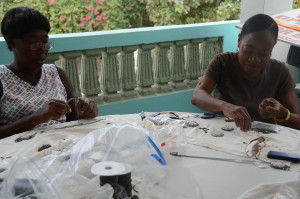 Just a couple of the beautiful women I met at ViBella in Simonette, Haiti.  
We all benefit from a flourishing global economy so let's do our part to make a good and lasting impact.
This is not an exhaustive list, just a few makers of goods I have enjoyed. If you have a company or organization you'd like me to add, find me on Twitter at @kellichuff.